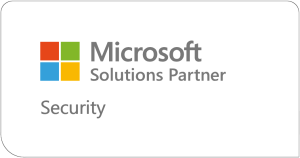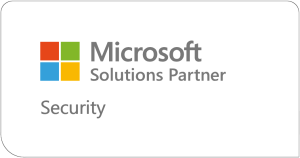 Let's democratize cybersecurity
As the most refreshing partner in cybersecurity, we provide industry specific state-of-the-art security for organizations worldwide. Both online and on premises, and on an ongoing basis. After all, attackers don't work from nine to five.
Grow together
That's why we learn from, and with each other every single day
Sustainable relationships are our main priority. Based on mutual trust we enter into every cooperation. In the literal sense of "co-operating". Our direct link to Microsoft's Product Managers results in a quick implementation of your feedback and requests in the software's functionalities. Because together we grow.
Your organization is our focus
That's why we tell our story in accessible language.
The world of cybersecurity is complex as it is, therefore we guide you through the process step by step. Without difficult words, scaremongering or noise. That way, you'll never lose sight of what we're doing and always stay in control.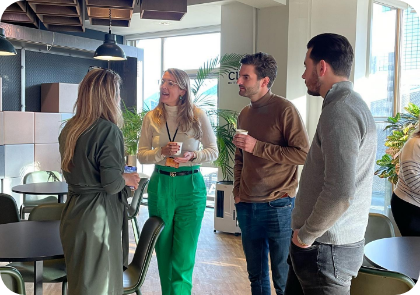 Our security plans
Which one fits your organization?
Every organization is unique. With that in mind, we always look for a suitable solution. With our carefully composed security plans you choose what's important.
Our cybersecurity starter package that keeps you safe and in control
Price From
€3.75 per user per month*
*Based on 1,000 users
Following our philosophy of growing together, we secure your organization by joining forces. You remain in the lead and we support if necessary.
Price From
€4.75 per user per month*
*Based on 1,000 users
This security plan is the full package. Meaning, we will take care of everything concerning your cybersecurity.
Price From
€9.99 per user per month*
*Based on 1,000 users
Our solutions
Because we don't tend to think in terms of problems.
A cyberattack can happen to any organization. Yet it does not always pose an acute risk when your cybersecurity is in order. That's why we put the solution first, not the problem.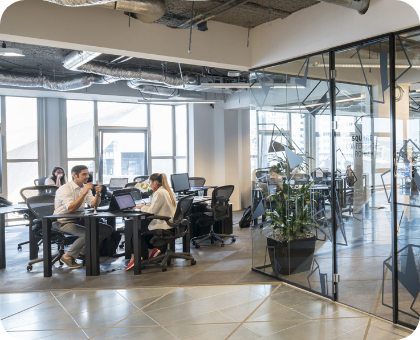 We are
Entrepreneurial tech fanatics with a Microsoft mindset.
In Rotterdam's first innovation hub CIC (the Cambridge Innovation Centre), we fill our days (and nights) with work and play. Switching between our office and the game room whilst building our community on a daily basis. The perfect place to grow together, isn't it?
In good company
We know how it works.
Our industry specific solutions meet compliance goals in the commercial as well as the public sector. Think BIO for Government and DNB for Finance. With our custom security assessment Get Secure we even score your organizational compliance level and show you where and how to improve.
Dare to join us?
The power of working your way
Working with us means you are in control. You decide how, where, when and how much you work. That's the power of EightFence.
You feel comfortable around our partners and Microsoft products are your cup of tea. With ease you translate the most complicated security issues into a clear story that not only technicians, but also the decision maker and their right hand understand flawlessly. Your Cloud security workshops (on location) result in clear action plans that always include proactive improvement proposals and high-level designs. You are not afraid to take responsibility and consult on difficult matters. Whatever the day brings, together with the product team you make sure that the partners have everything they need. And when an inspiring case or technology comes along, you'll effortlessly write a news item or blog for the website. Yes, this is your domain.
Microsoft technology is what makes your heart beat and to you the world of IT Security holds no secrets. You have a good grasp of the field and dream of technical, cloud-based solutions. When we mention Microsoft Sentinel, Dev(Sec)Ops and Defender ATP, it immediately rings a bell. CCSP and CCSK certifications are part of your digital trophy cabinet and an MS-500 or AZ-500 certification your number one priority. With your analytical mindset and customer-oriented approach, you know how to surprise not only us, but also our partners. You switch quickly, are stress-resistant and always go for maximum results. In short, the ideal basis for the long-term relationship EightFence stands for.
We don't care whether you're a MDR security Engineer, Cloud Security Consultant, Endpoint Manager Specialist, Hunter, Hacker, project manager, sales person, student or the best marketing guru ever. If cybersecurity is your middle name and you believe in the power of working smart, we definitely speak the same (code) language. So surprise us with your expertise and tell us why you are the perfect match for our team. And let's grow together!
Yeah! Tijd voor security
Bedankt voor je interesse!
De belangrijkste stap om te nemen is de eerste stap. Die heb je zojuist gezet. We nemen binnen 24 uur contact met je op. Dan plannen we een demo in en komen we jouw securitywensen bespreken.